The noir-ish detective novel The Blues Don't Care, set in Los Angeles in the midst of World War II, is the opener for a new series featuring reluctant private eye Bobby Saxon. But author Paul D Marks is anything but a newcomer – he's the author of the Shamus Award-Winning mystery thriller White Heat among others, and his short stories have also won plaudits, including the 2018 Macavity Award. We chatted to Paul about his latest work.
Please tell us a little about The Blues Don't Care…
The Blues Don't Care is Bobby Saxon's story. A young, wet behind the ears piano player, he wants more than anything to play with the Booker 'Boom Boom' Taylor big band at the Club Alabam on Central Avenue in Los Angeles during World War II – but he's white and all of the band members are black. He gets his chance at a gig on one of the gambling ships off the coast of Santa Monica, but while the band is onstage, a man crashes through the sky blue ceiling over the dance floor – dead. One of the band members is arrested for the murder and Booker makes Bobby an offer: find the real killer and Bobby will get a permanent place in the band. Since Bobby is a total amateur detective he bases a lot of what he does on what he's seen in The Maltese Falcon and other detective movies. We also learn that Bobby is more of an outsider, amongst the outsiders of the band, than we might have thought at first.
What made you want to set a book in LA during World War II?
I've always said that if I could have been born in another era I would have liked to have been born in 1920 so I'd be 20 in 1940. America entered the war in 1941. And while I know it wasn't a great time there is something fascinating about it. I love the music and movies of that era, especially the latter part when film noir started really hitting around 1944 with Double Indemnity, Murder, My Sweet and Woman in the Window. On top of that, I love Raymond Chandler so I like the idea of doing a Chandleresque story, but with a modern twist.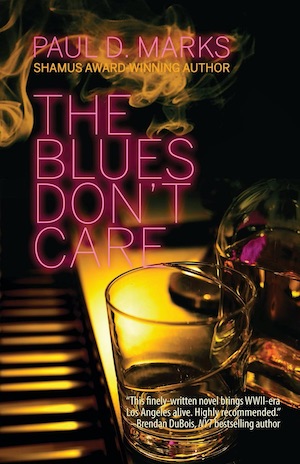 How did you go about recreating 1940s Los Angeles?
Los Angeles is just part of me. My family, at least on one side, goes back here a ways. I grew up here, but not in the 1940s when the novel takes place. The first source these days is usually the internet. There's also books from that time, both fiction and non-fiction. The former gives one an idea of how authors of that time saw the place and era. Raymond Chandler's, Chester Himes' and John Fante's novels are good places to start. There's also music from the time period which, while not specific to Los Angeles, can certainly give one a feel for the zeitgeist of the times. Same with movies.
There were also two maybe not so recognised sources of research that were really incredible. The first was my mom and her friends, who remembered LA from their youth during the War. They were able to give first-hand accounts. The other source is maps. One of the issues I had was figuring out how to get the characters from the heart of landlocked Los Angeles to Long Beach on the ocean. Today we'd just hop on the freeway, but the freeways didn't exist back then. Looking at the maps I could see what roads they would have to take and what things they would see, such as oil fields, on the drive. I think people sometimes overlook maps in their research, but I find them of great value and fascinating in themselves.
Were you able to draw on any vestiges of old LA in the present-day city for inspiration?
When I was a kid it was still Raymond Chandler's Los Angeles. Downtown and Bunker Hill, where he lived and sometimes wrote about, were pretty much the same as his LA. It's also where John Fante, who's sometimes called 'the quintessential LA novelist', lived and wrote about in Ask the Dust.
Sadly, Los Angeles isn't very good about preserving its past, so it's not always easy to find the old LA. But there are a few remaining places that Bobby goes to in the novel that you can still see like Musso & Frank in Hollywood, where Quentin Tarantino had a scene or two in Once Upon a Time in Hollywood. And the Dunbar Hotel still exists, not as a hotel but as a museum and senior housing. The La Brea tar pits are still there. Bullocks Wilshire and May Company department stores are no more, but the art deco buildings that held them are still there, now repurposed. Bullocks is now a law school and May Company will soon be home to the Motion Picture Academy's new museum. And the amazing Bradbury Building, which in The Blues Don't Care has some pivotal scenes and Bobby visits it often. It's been in many movies, from the original DOA to Blade Runner, and is still there and still in use as an office building.
Bobby Saxon is a most singular protagonist. How easy was it to get inside his skin?
Writers have to be able to get inside all of their characters. There's a little bit of me in every character I write. I have a lot of things in common with Bobby and it was easy to relate to him on several levels. Bobby is an outsider among outsiders, never quite fitting in and struggling to find his place in the world. I've felt like an outsider at times. And I relate to his ambition of wanting to make it as a musician. I realised early on that I didn't have the talent to be a musician, but I did throw all my energy into trying to make it as a writer. Bobby has to look for male role models since his father rejected him. I also had issues with my father and had to look outside for male role models. In other ways Bobby and I are very different, but I think I found more in common with him than not. We're both driven and dedicated and willing to make sacrifices to get what we want.
There are hints of Ellroy in the Blues Don't Care. Who would you say are your writing influences?
James Ellroy is definitely an influence on my writing, but probably more so on my Duke Rogers series (White Heat and Broken Windows) set in the 1990s, than on The Blues Don't Care. I know he's written Perfidia and This Storm set during WWII, but the character of Bobby actually makes starring appearances in three short stories that came out a long, long time ago, long before those books.
Other influences would be Raymond Chandler, who evokes a mythic Los Angeles. Ross Macdonald, who sort of carried on from Chandler. John Fante and David Goodis. And even artist Edward Hopper who, if there ever was a noir painter, it's him. Even the city of LA is an influence on much of my writing. Some people have said it's another character in my work.
Music has a huge part to play in this book and it's almost as if there's a soundtrack playing in the background. Was this important to you as you wrote?
Definitely. One of the things I love most about this era is the music, swing and big band. I'm not an expert, but I listen to it and like a lot of it. So it was definitely important as I wrote this. Also because I think music, whether from the 1940s as here, or the 1960s, or the 1660s with baroque, sets a tone for an era. I was lucky that when I became an adult my friend Linda and I would go see some of the 'leftover' big bands still playing. We got to see Bob Eberly and Helen O'Connell. When they were with the Jimmy Dorsey Orchestra in the 40s, they sang Brazil and Tangerine – the latter can be heard instrumentally in Double Indemnity. We also got to see Tex Beneke lead the Glenn Miller Orchestra and others. I even got to see Benny Goodman when I was a kid – but I don't think I appreciated it at the time. But when I was an adult I saw Johnny Otis, who took over as the band leader of the real house band at the Club Alabam. Didn't see him there as it no longer existed, but still pretty cool.
The appearance of a movie legend or two adds a wonderful sense of authenticity as the narrative progresses. How easy was it to assimilate real-life characters into a work of fiction?
Bobby does come across a handful of real celebrities in the flesh in Blues, Clark Gable, Herb Jeffries, Louis B Mayer and Freddy Martin among them. And I do a lot of name-dropping of celebs from that 1940s time period. Everyone from Bogie and Cary Grant to cowboy hero Gene Autry (see my website www.PaulDMarks.com for my encounter with Cary Grant). One of the characters in the book, Tony Leach, the gangster and owner of the gambling ship Bobby and the band play on has a slew of signed celebrity photos: Cary Grant, Carole Lombard, Jean Harlow, Clark Gable, Bogart, Joe Bascopolous, Errol Flynn and more. But one of those is an 'Easter egg'. Can you guess which one?
I like to reference these people because it gives the reader a sense being there in that time and place with the people who were really there. Also, Los Angeles is and was the home to many celebrities and it's part of life here to occasionally run into one. Since Bobby travels in music circles and even gangster circles he runs across these people.
What's coming up next for you and when will we meet Bobby again?
I've been thinking about another adventure for Bobby. I have an opening teaser in mind, but not really a fully developed plot yet. So there's a ways to go on that. In the meantime, I'm working on the third novel in my Duke Rogers private eye series. I'm also working on a standalone set in New York City. I also have a couple short stories coming out in anthologies though I'm not sure when. No shortage of projects or ideas, but always a shortage of time.