Germany will supply Ukraine with 14 Leopard 2 tanks and has given allies permission to send theirs too – despite threats from Russia – while the US has confirmed it will send over 31 M1 Abrams tanks and provide training to the country's troops.
The move from Germany means other countries – such as Poland and Spain – which have stocks of the Leopard 2 tank and can now supply them to Kyiv.
Ukraine's President Volodymyr Zelenskyy told Sky News he is "very happy" and "thankful" about the Leopard 2 decision – but warned the quantity and delivery time of the vehicles is "critical".
"This is not an offensive threat to Russia," US President Joe Biden told a news conference on Wednesday after confirming tanks would be sent to Ukraine.
He said the US and its allies "will continue to do all we can to support Ukraine," adding that Vladimir Putin "was wrong… we are united".
Biden announces the US is to send 31 Abrams tanks to Ukraine

Mr Biden said armoured capability has been "critical for Ukraine" and the US "will train Ukrainian troops as soon as possible", adding that Germany has "really stepped up in support" of Mr Zelenskyy's troops.
The US earlier said it would provide the necessary training and supplies needed to operate and run its M1 Abrams tanks as part of its "long-term commitment that we have to Ukraine's defence leads", a senior administration official said.
"In addition to the Abrams we're also procuring eight M88 recovery vehicles," the official said.
It is understood the US military aid package is worth $400m (£323m).
The US's decision was made in coordination with Germany, following diplomatic conversations between the two countries.
Mr Biden also held conversations with French President Emmanuel Macron, Prime Minister Rishi Sunak and Italian Prime Minister Giogia Meloni on support for Ukraine this morning.
Ukraine war – latest: Russia sends warning to US over tanks
What countries are sending tanks to Ukraine?
The US will send 31 M1 Abrams tanks
Germany will send 14 Leopard 2 A6 tanks
The UK has announced it will send 14 Challenger 2 tanks
Poland has pledged to send 14 Leopard 2 tanks
Yesterday, Moscow warned Berlin that sending tanks "does not bode well for future relations" – and told the US that should it authorise such a move, it would be a "blatant provocation".
The Russian embassy in Berlin condemned Germany's decision as "extremely dangerous" and an "escalation" of the conflict "to a new level of confrontation".
In a statement, it said "battle tanks with German crosses will again be sent to the 'eastern front', which will inevitably lead to the death of not only Russian soldiers, but also the civilian population".
"It destroys the remnants of mutual trust, causes irreparable damage to the already deplorable state of Russian-German relations, casts doubt on the possibility of their normalisation in the foreseeable future," it added.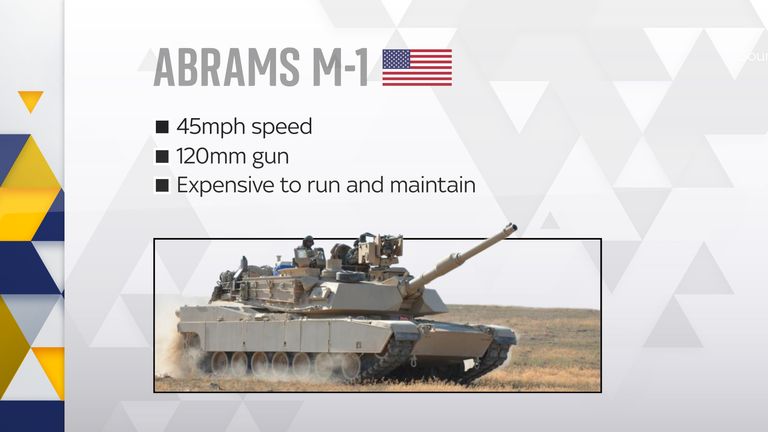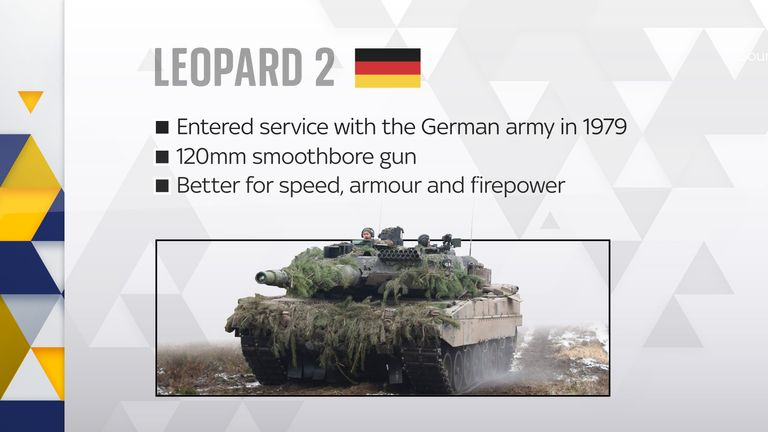 Kyiv has been pleading for months for Western nations to send modern battle tanks to give its forces the firepower and mobility it hopes will break through Russian defensive lines and recapture territory occupied by Russia.
"This decision follows our well-known line of supporting Ukraine to the best of our ability," German Chancellor Olaf Scholz said in a statement on Wednesday. "We are acting in a closely coordinated manner internationally."
Addressing the German parliament, he said there would be no ground troops or fighter jets sent to Ukraine.
Although Ukraine has stocks of Soviet-made tanks, President Zelenskyy says his forces need more, faster and deadlier weapons – in particular Western tanks – to push the Russians back.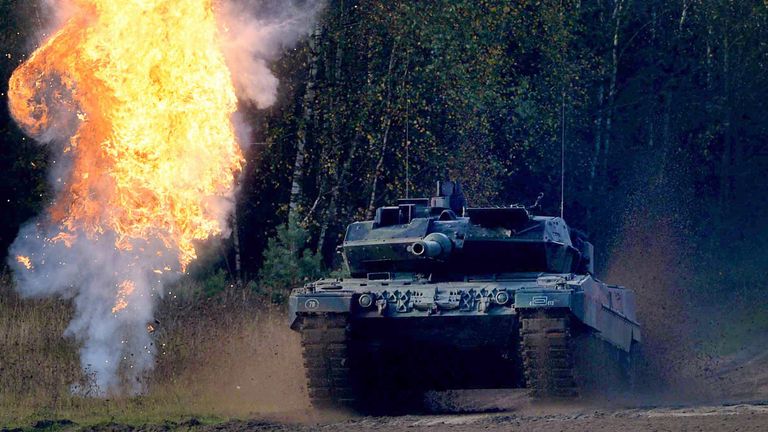 There had been a sense of frustration among some of Germany's allies about the delay in authorising the Leopards to go to Ukraine.
First time since WW2 German tanks will fight on European soil
Sky's Siobhan Robbins in Berlin said the delay in the German chancellor's decision was driven by fears he may escalate the war or make Germany a target.
"This is the first time since World War Two that German battle tanks will fight on a European battlefield," she said.
"The chancellor had to balance the needs of Ukraine with the safety and support of Germans."
Recent opinion polls showed German voters split on the idea.
The German decision comes after the UK announced it would provide 14 Challenger 2 tanks, which was widely seen as an attempt to persuade other allies to send Leopards, of which there are much higher stocks across Europe.
German tanks decision is a big deal – here's why
Germany has been stuck in an excruciating position. On the one hand for clear historical reasons it does not want to be seen taking the lead against Russia. On the other it happens to produce and supply a weapon that could prove crucial in Ukraine's war against Putin.
That at least is how German officials have explained their predicament over the Leopard 2 battle tank. Their critics in the past week's furious tank debate say that is an excuse. It is high time Germany acts its geopolitical shoe size they say, at the forefront of European nations. With its economic prowess and position in Europe come responsibilities and they should stop shirking them.
Either way Germany's decision to send Leopards, finally and agonisingly reached is a big deal. It will be make a big difference perhaps decisively in a military sense. But geopolitically it sends a clear message albeit belatedly to Putin that the West remains united and determined to stop him whatever his clumsy attempts at nuclear blackmail.
Germans are uneasy about military aggression because of their Nazi past. Some have worried about the idea of German tanks rolling east again to kill Russians as they did in WW2.
They have also been proud of their policy of Ostpolitik, looking east, normalising relations with Russia and the role that played in ending the Cold War.
But critics say they have been in a muddle. The tanks are being sent not to aggress but to defend. And the last year has proven Ostpolitik a relic of the past or at least in need of an urgent overhaul. Their chancellor Olaf Scholz said as much in a speech when he said Germany has reached a Zeitenwende or historic turning point.
Berlin says it did not want to be seen taking the lead over tanks and has only acted now the US has agreed to send them too. But Britain had already taken the initiative, sending Challengers.
Rather than being seen as a team player acting on consensus, the last week has seen Germany dragging its heels apparently confused and unsure about its role in the coalition.
That is unfortunate because in reality Germany has given huge amounts to help Ukraine. It has acted now, but the damage to its reputation is done.
'Big step towards stopping Russia'
British Prime Minister Rishi Sunak hailed the move as "the right decision by NATO Allies and friends".
"Alongside Challenger 2s, they will strengthen Ukraine's defensive firepower. Together, we are accelerating our efforts to ensure Ukraine wins this war and secures a lasting peace," he said.
Polish Prime Minister Mateusz Morawiecki, who was among those critical of Germany's reluctance, also welcomed the decision as a "big step towards stopping Russia".
Earlier this week, he had said he was prepared to build a "smaller coalition" of countries that would send their tanks to Ukraine anyway.
Read more:
Russia mercenary Wagner Group suffers heavy losses
Ukrainian commander's plea for Western upgrades
'Whiff of panic' about Russia
It comes as British intelligence suggested Russia's most modern tank had been rushed to the warzone despite not being fully operational.
"In recent months, deployed Russian forces were reluctant to accept the first tranche of T-14 allocated to them because the vehicles were in such poor condition," the UK Ministry of Defence said in its latest Twitter update.
"It is unclear exactly what aspects of the vehicles prompted this reaction, but within the last three years, Russian officials have publicly described problems with the T-14's engine and thermal imaging systems.
"Therefore, it is unlikely that any deployed T-14 tanks will have met the usual standards for new equipment to be deemed operational," the MoD added.
Russia has been "panicked" by Berlin's decision and has deployed its newest tank into active service despite reported faults, according to retired Air Vice-Marshal Sean Bell.
"There's just a whiff of panic around the way that Russia is responding here," he told Sky News.
"Almost certainly because Russia realises just how decisive the issue of tanks, the Western tanks to Ukraine, could be in this conflict."
'Global catastrophe'
First introduced in 1979, the Leopard 2 offers good protection against armour-piercing rounds and anti-tank guided weapons.
Berlin said it plans to swiftly begin training Ukrainian tank crews in Germany. The package being put together will also include logistics, ammunition and maintenance.
On Sunday, the speaker of the lower house of Russia's parliament, State Duma chairman Vyacheslav Volodin, said: "Supplies of offensive weapons to the Kyiv regime would lead to a global catastrophe.
"If Washington and NATO supply weapons that would be used for striking peaceful cities and making attempts to seize our territory as they threaten to do, it would trigger a retaliation with more powerful weapons."