There is plenty of bemusement, irritation and anger in some quarters of the Conservative Party as to why Nadhim Zahawi is still in post. 
Revelations that the party chairman reportedly paid nearly £5m to HM Revenue and Customs (HMRC) to settle a tax dispute, and pay a penalty over around £27m of wealth on which he did not initially pay tax is, for some MPs, a closed case rather than something that needs further investigation.
As one minister pointed out to me on Wednesday, what really mattered here was not the conflict of interest of Mr Zahawi being the chancellor while he was in dispute with the HMRC or what the PM knew when.
What matters here is the naked optics of a cabinet minister receiving around £27m that he didn't initially pay tax on when people were struggling to make ends meet.
So while the prime minister on Wednesday spoke of following "due process" in determining whether the cabinet minister had broken the ministerial code, the public is more likely to have decided Mr Zahawi had not followed due process of paying his taxes – as they have to do every year – and drawn their own conclusions.
For his part, Mr Zahawi is clear that it was a "careless" error, the tax he owed was paid and the matter settled.
But the sight of Sir Keir Starmer taking easy shots at the prime minister for not asking Mr Zahawi to stand aside over the whole affair was hard for some to stomach.
Many MPs have concluded the party chairman is going to have to stand down over this affair anyway, and the investigation into the matter by the PM's independent ethics advisor is only drawing out the pain.
"Many people in the party think that the situation is unsustainable and will only end one way," is how one senior party figure put it to me on Wednesday.
"The point here is that the public sees a minister with £27m who didn't pay his tax."
Rishi Sunak answers Zahawi question at PMQs


There are myriad explanations as to why Mr Sunak hasn't sacked Mr Zahawi.
His team argues that the prime minister promised to do things properly and "there is a process to follow".
He is also in a bit of a bind given that he neither sacked nor suspended Deputy Prime Minister Dominic Raab over the eight bullying allegations he is now under investigation over, so it would have been hard to treat Mr Zahawi differently.
There is also chatter that he doesn't have the authority just to sack the party chairman without a fight or backlash, and instead has to do it following a procedure.
But the situation is causing problems.
Read more:
No 10 confirms Rishi Sunak has never paid tax penalty
What did Nadhim Zahawi do?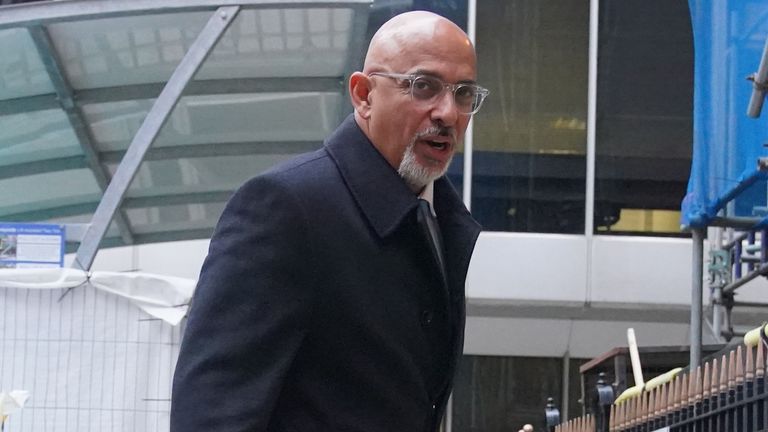 'Job too big' for Sunak
Sir Keir used it to reiterate his "weak prime minister" attack line on Wednesday and then went further to suggest that the combination of internal scandals and the problems in the NHS is evidence that the "job is too big" for Mr Sunak.
For a prime minister who has styled himself as a competent technocrat getting on with delivering, this is a very uncomfortable jibe that he will not want to stick.
It also calls into question the prime minister himself, both over his promise to lead a government of integrity and his own tax affairs.
Sir Keir was at it again on Wednesday, goading the prime minister over last year's revelations that his wife Akshata Murty had in the past avoided tax in the UK by claiming non-dom status.
"We all know why [the PM's] reluctant to ask his chairman about family affairs and tax avoidance," remarked Sir Keir to the clear discomfort of the man sitting opposite him in the chamber.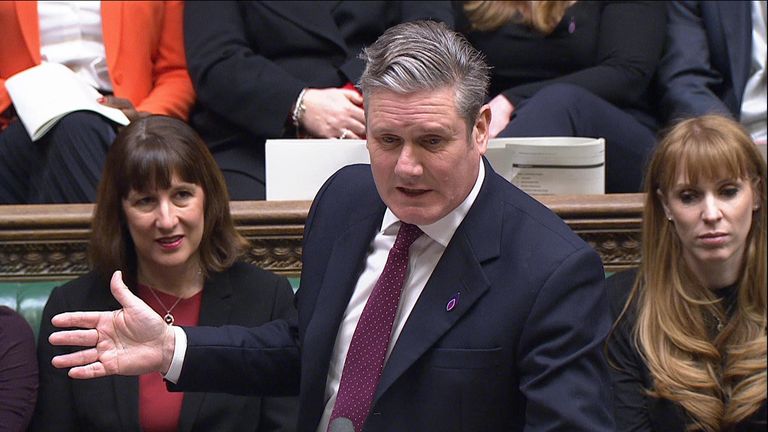 Conflict over tax affairs
One former senior minister told me they think it's difficult for the PM to sack someone over tax affairs when his family had its own tax scandal last year and thinks Number 10 is keeping Mr Zahawi in place as a "human shield" to avoid the attention shifting to the PM's tax affairs.
But the questions are now being directed to Mr Sunak's door after he was forced to confirm publicly that he had never paid a penalty to the taxman over his own tax affairs.
Click to subscribe to Beth Rigby Interviews… wherever you get your podcasts
For the PM's part, he might well believe the inquiry by his independent ethics advisor is the right way to handle the situation. But his approach means he is also having to field the political blows and burn through his own political capital over a scandal that many in his party think will end with Mr Zahawi having to resign anyway.
"When this sort of thing happens, there's only one outcome and it's just a matter of when," one former cabinet minister told me this week.
A PM then prolonging the pain for him, his chairman and his party, as his reputation for integrity and competence takes another hit.