When watching the horrific video of Tyre Nichols being kicked and punched by police officers, many minds in America were transported back to footage of another black man being beaten in similar circumstances more than 30 years ago.
The video of Rodney King is grainy and shaky, before the era of police-worn body cameras and mobile phones.
It was filmed, fortuitously, by a plumber who had bought a new camcorder to capture his friend running a marathon but happened to see Mr King from the window of his apartment, being attacked by officers.
Mr King had also been pulled over in his car, in Los Angeles, and was mercilessly beaten. The video of his attack was picked up by local and then national news broadcasters and was shown on television for days.
It was the first time America had been forced to confront such savagery from their living rooms, the brutalising of a black man by those who swore to protect.
Mr King survived the beating, but the video of the deadly assault on Tyre Nichols has painful parallels, felt especially keenly by Mr King's family.
"People wonder where the anger comes from, this is where if you see someone time and time again, who looks like you, your dad, your brother, how would you feel? It's a pattern and we're still here," his daughter, Lora Dene King, told NBC News after watching the Nichols footage released by police,
The video and the subsequent acquittal of four Los Angeles police officers who had been criminally charged in relation to the assault on Mr King sparked violent protests in LA and beyond.
There was, for the first time, very clear video evidence to confirm the lived experience and discrimination of black communities by the police and people demanded change.
Tyre arrest 'a deadly traffic stop'

The deaths of black people at the hands of law enforcement are now, more often, caught on mobile phone cameras or with police body cameras.
There is a heightened sense of accountability for police, but Ms Dene King believes reform still has a long way to go.
"I hope no one has to explain this to their children. I hope one day we can look back and realise just how ignorant we were. We are from here, we live here, we should be working together so that this never happens. It seems like it's no change except for hashtag with clear video," she said.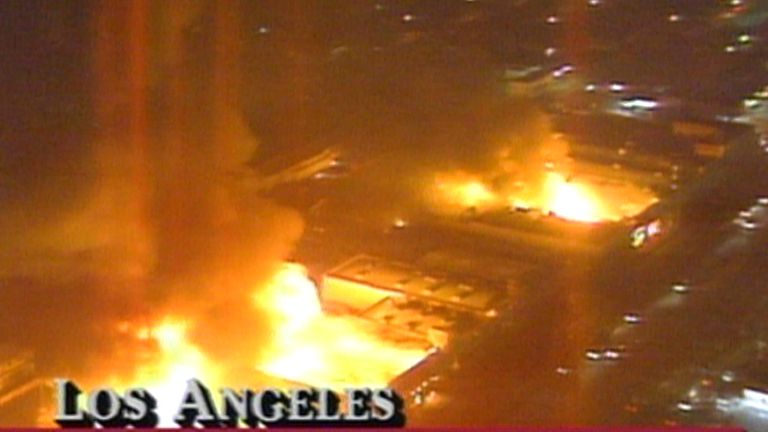 America continues to wrestle with its police problem and death at the hands of law enforcement is shockingly routine.
Read more
Tyre Nichols' mother says she's 'not going to stop' until those responsible face justice
Outrage as video shows Tyre Nichols beaten by officers before his death
How the violent arrest of Tyre Nichols unfolded
Last year, 1,123 people were killed by police in the US, making it one of the deadliest years on record for police violence, according to figures from non-profit research group Mapping Police Violence.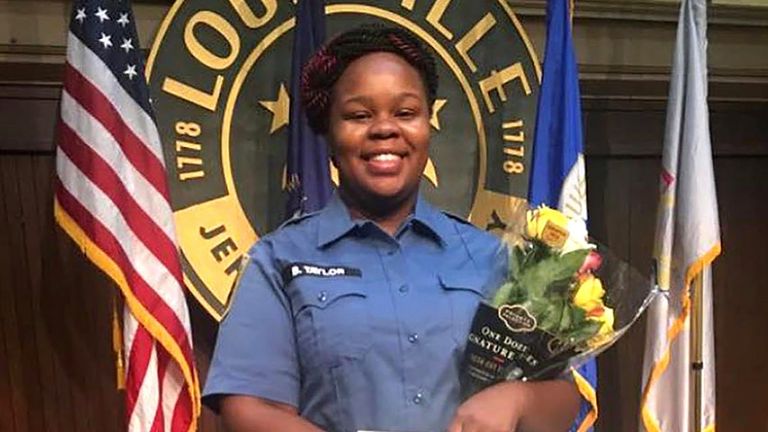 Those figures suggest an average of more than three people a day are being killed, and black people are almost three times more likely to be killed by police than white people.
In 2014, Michael Brown, an unarmed black teenager in Ferguson, Missouri, was shot dead by a white police officer who was not charged.
In 2020, Breonna Taylor, a medical worker, was shot dead by officers during a botched raid on her apartment.
Rodney King's lawyer: 'This is deja vu for me'

There are a string of other high profile tragedies but it was the murder of George Floyd by police officer Derek Chauvin in Minneapolis which revived the Black Lives Matter movement and prompted an explosive wave of protest.
Public focus sharpened on a system infected by violence and discrimination, causing police reform laws to be passed with haste in the months following Mr Floyd's death.
Body-camera footage is now more routinely made public, whether it exonerates the officers or damns them as in the case of Tyre Nichols.
'We fought to get black [people] in the police'

Civil rights activist Reverend Al Sharpton said the beating of Mr Nichols was racially-motivated even though the five officers charged with his murder are also black.
He said: "These black guys thought they could get away with it doing it to a black guy. You know you couldn't get away with doing that in Tennessee to a white guy. You'll find out you ain't getting away with it doing it to a black guy."
America is still demanding change and protests continue in cities across the country. But the swift charging of the officers involved in the beating of Tyre Nichols and transparency around the video has perhaps encouraged them to remain peaceful and convinced some that justice is under way.