Humza Yousaf has been legally sworn in as Scotland's sixth first minister.
The 37-year-old is now Keeper of the Scottish Seal after taking the oath of office and pledging his allegiance to the King.
The seal allows the monarch to authorise official documents without having to sign each one.
As Keeper of the Scottish Seal, Mr Yousaf now has the authority to make decisions on behalf of the crown, which effectively means he can lead the country with the support of the Scottish Parliament.
The ceremony took place at the Court of Session in Edinburgh on Wednesday morning.
Read more:
The life, political path and controversies of the new SNP leader
Yousaf promises independence: What can new SNP leader deliver?
Yousaf officially elected as first minister as Forbes leaves government
Mr Yousaf, who also replaced Nicola Sturgeon as SNP leader, is the youngest person to hold the post and has made history as the first from an ethnic minority background to be appointed to the position.
On Tuesday, Mr Yousaf insisted he would argue "vigorously for independence", but also said he would work with the UK government "where I can, when I can, in the best interests of our nation".
Humza Yousaf elected Scotland's first minister

He said taking on the top job is the "honour and the privilege of my life", adding: "I will strive every single minute of every day to be worthy of it."
The first minister saw off competition from Kate Forbes and Ash Regan in what was an explosive election campaign.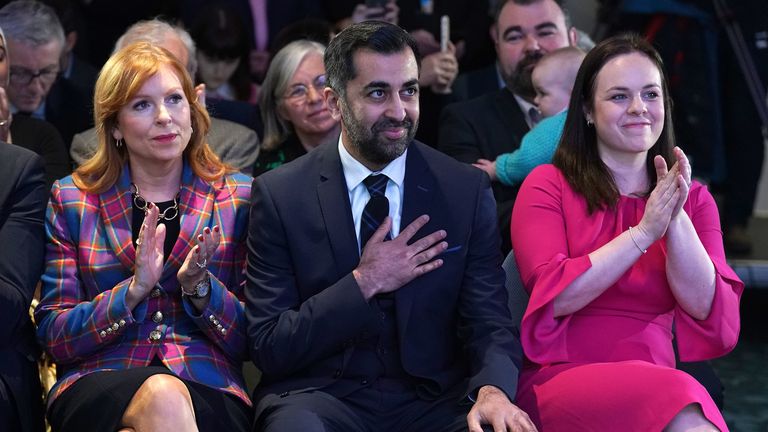 The leadership contest featured rows over religious beliefs, arguments about the recollection of past events, and widespread criticism of secrecy surrounding the vote.
The contest also led to a number of other resignations, including that of Ms Sturgeon's husband Peter Murrell as SNP chief executive.
In full: Beth Rigby Interviews…

Mr Yousaf is now expected to announce his first ministerial appointments.
Shona Robison, a good friend of Ms Sturgeon, has already been named deputy first minister.
Ms Forbes, who served as finance secretary under Ms Sturgeon, is set to return to the backbenches after turning down the role of rural affairs secretary.
The 32-year-old tweeted: "To the great credit of Humza Yousaf the first official [conversation] he had after Monday's result was with me. He has been respectful, supportive and warm throughout.
"In whatever capacity I serve, I'll support him. Ps after five long weeks, I'll be delighted to see more of my family."
On Tuesday night, Mr Yousaf posted pictures online of his family at Bute House, the first minister's official residence.
He tweeted: "My family and I spending our first night in Bute House after today's parliamentary vote.
"A special moment leading my family in prayer in Bute House as is customary after breaking fast together."