Hundreds of migrants have so far been returned to Albania under the government's "gold-standard" deal with the country, says immigration minister Robert Jenrick.
That's despite more than 12,000 Albanian people crossing the Channel on small boats last year, according to official figures.
Speaking to Sky's Sophy Ridge, Mr Jenrick initially said "thousands" of illegal migrants were being returned to Albania, before clarifying that "hundreds" had been placed on the flights agreed in December last year.
Politics latest:
Many more migrant boats intercepted in Channel after 'landmark deals' with France
He said it was still "early days" and that "spurious last minute claims" had held up deportations – but admitted many others were currently in hotels or had absconded.
Mr Jenrick was asked "How many people who've arrived on small boats have been returned to Albania?" – to which he replied that "thousands of Albanians are returning to Albania".
He was then pushed by Sophy on whether this figure included criminals as well, rather than just those who arrived across the Channel.
The Home Office minister clarified: "Well, there are hundreds of Albanians who've arrived who have been placed on those flights."
The government announced in April that "over 1,000" Albanian nationals have been returned since December – but this included "failed asylum seekers, foreign national offenders and voluntary returns".
Mr Jenrick earlier described the deal as a "gold-standard" agreement which is seeing "thousands of Albanian illegal migrants returned home and the numbers crossing from that country significantly reducing".
In December last year, Prime Minister Rishi Sunak and his Albanian counterpart, Edi Rama, agreed to "enhance cooperation" in three areas – "security issues and home affairs (with the main focus on the fight against organised crime and illegal immigration); economic growth and investment; innovation, youth and education".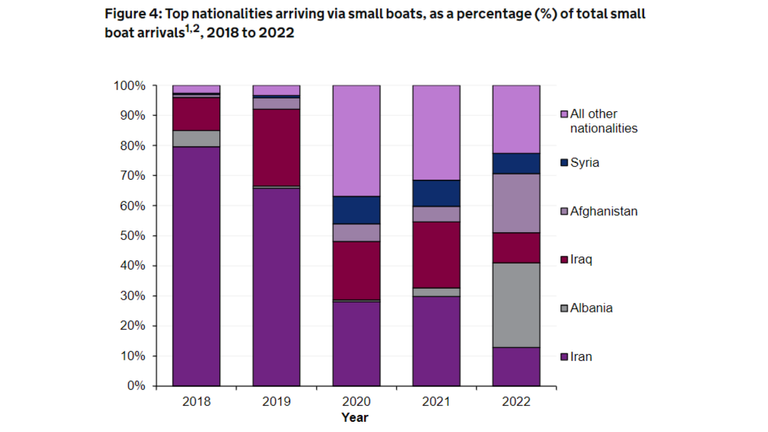 This included setting up a "joint migration task force" between the two countries to "manage illegal migration of Albanian citizens to the UK".
Mr Rama told Sky News earlier this year that Downing Street showed "important signs of regret and embarrassment" following the language used by ministers like Home Secretary Suella Braverman when it came to migrants – after she spoke of an "invasion" of asylum seekers.
Mr Jenrick has also said previously that Albanians should be "excluded" from the "right to claim asylum".
Mr Sunak has made "stop the boats" one of his five pledges to the British people this year.
And Mr Jenrick claimed that a "landmark" deal agreed with France has seen a "big increase in the number of interceptions" of small boats – with 33,000 migrants prevented from crossing.