At Maui High School, class is out and the hallways are instead thronging with people who have evacuated, escaping the worst wildfire to hit the US for years. 
The gymnasium has become a shelter, with families huddled in corners under duvets, and camp beds set up where the sports court would usually be.
Behind the building, volunteers serve Hawaiian stew and rice from huge silver trays. Benches are arranged around a big screen showing rolling local news, documenting the rising number of fatalities.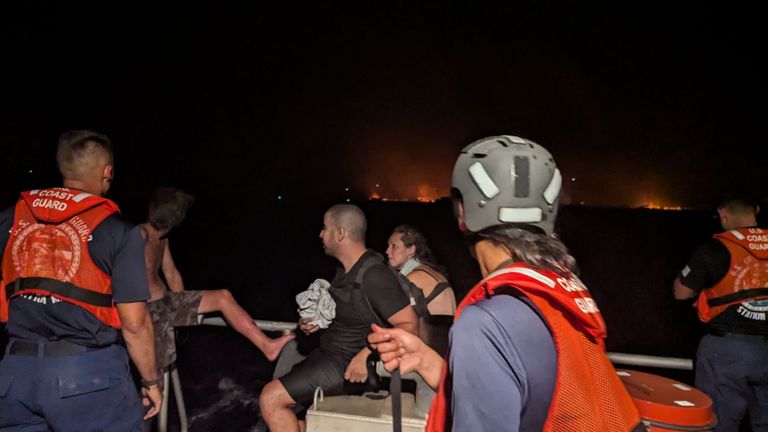 Most of the people here are either tourists or locals from the town of Laihana, which was obliterated when wildfire ripped through Maui on Tuesday.
Here, trauma interacts with remarkable tales of survival.
Ydriss Nouara and his neighbour Damon McDonough jumped into the ocean to escape the flames which engulfed Laihana. They spent three hours clinging to a jetty before they were rescued by a coastguard boat.
"It was hell," says Ydriss. "Hell on earth, truly."
The pair had both left their homes in the centre of Laihana when the wildfires which had been visible on the crest of the hill quickly started moving their way, accelerated by the winds from a hurricane 800 miles off the coast.
"It was the afternoon but the skies were black from the smoke," says Damon. They both headed down to the harbour area of town believing they would be safe there. But soon they were burning hot.
"We kept hearing explosions and screams like we were in a horror movie," says Ydriss, "We heard people throwing up, we didn't know where they were. I called the police and they said that they couldn't get to us.
"The smoke was all black and we called the cops again and they said they couldn't come and the third time they said you gotta go in the water. And I said 'you want us to jump in the water in a hurricane? It's black you know.'
"But we didn't have a choice," he adds, "it was either that or burn."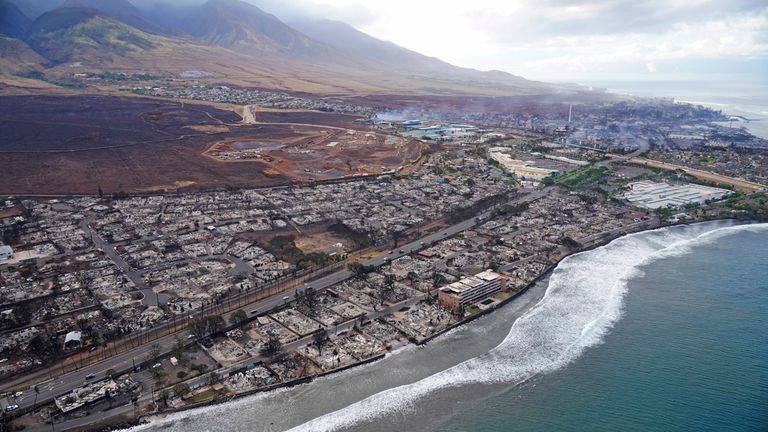 Damon, an army veteran who moved to Maui from California, says he believes it was a miracle they survived.
"We would just keep hearing boats exploding and they were on fire and moving towards them as though someone was driving them. I was on my back trying to stay afloat and I was like saying to myself 'please not today, God, not like this."
Both Damon and Ydriss lost their homes and belongings to the fire. Most people in the shelters have just a small bag of belongings.
Christina and her family were on holiday at the luxury Pumana resort in Laihana to celebrate her 10-year-old grandson, John, finishing cancer treatment.
They were evacuated two days ago and have not been allowed back by authorities to retrieve their suitcases.
Read more:
Images show devastation on island of Maui
Telescope captures deadly Hawaii fires
'We were totally shocked by what we saw'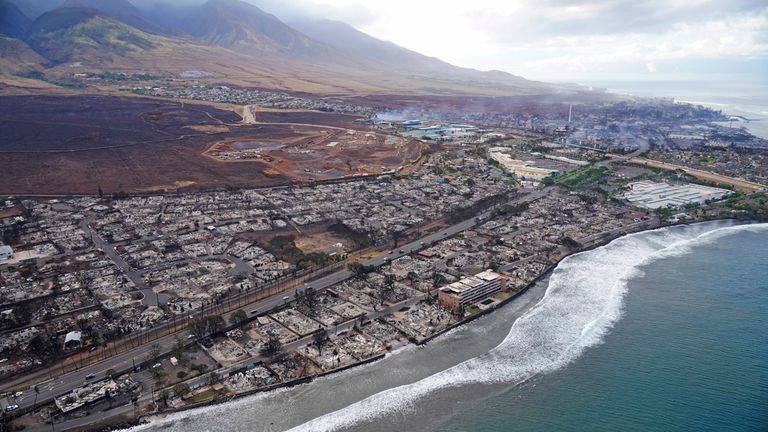 "My grandson had a tumour removed from his head and had five weeks of radiation treatment and we came to Hawaii after that," says Christina.
"Thankfully we were evacuated and brought here," she adds, tears filling her eyes, "The people are so kind. We have food and water and a place to shower and people who love us. We feel very lucky and very blessed."
Some tourists chose to go straight to the airport to await flights out of Maui.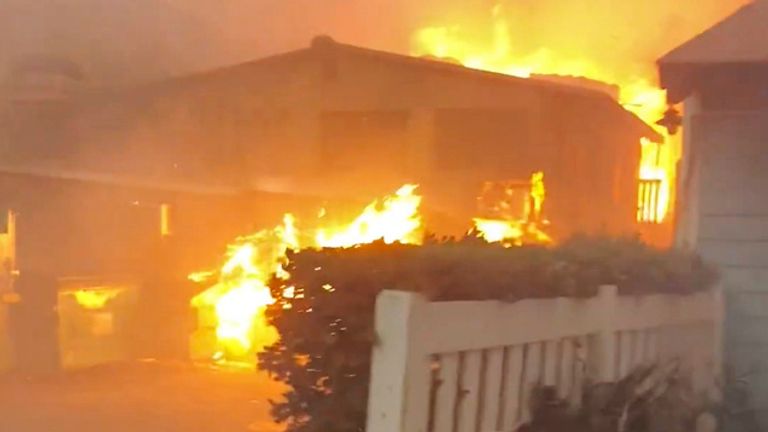 The partly covered concourse is peppered with people trying to get some sleep. Brian and his 16-year-old daughter Chiara are from Los Angeles so they are used to wildfires, but have never seen a blaze move so quickly.
"The alarms blared at the hotel, telling us to evacuate," says Brian. "I had no clue of the devastation really until we hopped on the bus and we saw this carnage with all the homes burned and all the businesses burned down.
I was just there, a couple of nights ago, picking up some shaved ice for my kids and to see it like that was just terrible."
"It was like a bomb went off," says Chiara. "All the cars with full gas tanks, exploded when the fires reached them."