Donald Trump has said he will surrender himself to authorities in Georgia on Thursday, as he awaits trial on charges of trying to overturn his 2020 election defeat in the US state.
"Can you believe it? I'll be going to Atlanta, Georgia, on Thursday to be ARRESTED," the former US president wrote on his social media network Truth Social on Monday, hours after his bond was set at $200,000 (£157,000).
Trump was ordered not to send threatening social media messages to co-defendants, witnesses or victims, according to the bond agreement signed by Fulton County district attorney Fani Willis, Trump's defence lawyers and the judge. It explicitly includes "posts on social media or reposts of posts" made by others.
He was also prohibited from communicating in any way about the facts of the case with any co-defendant or witness, except through lawyers.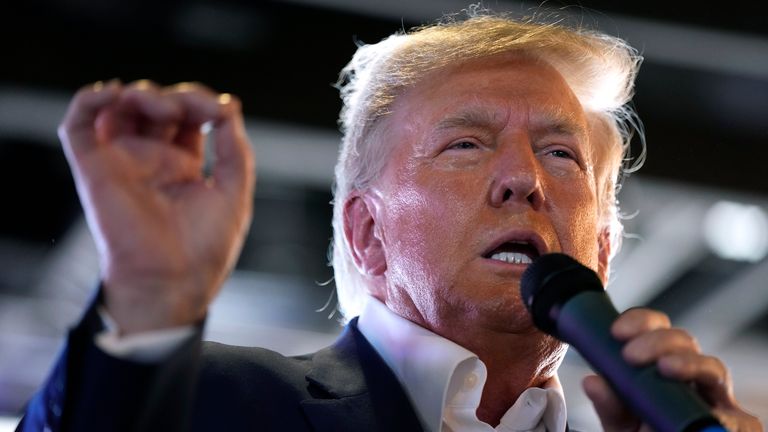 Trump was indicted in the Georgia case last week along with 18 co-defendants, the fourth set of charges against him since April, when he became the first former president in US history to face indictment.
His appearances in New York, Florida and Washington DC have been box office media events. The former president has denied any wrongdoing.
Trump has repeatedly used social media to attack those involved in the criminal cases against him as he campaigns to reclaim the White House in 2024.
He has railed against Ms Willis since before he was indicted, and singled out Florida's governor, Brian Kemp – a Republican who rebuffed his efforts to overturn the election – by name in a social media post on Monday morning.
Ms Willis set a deadline of noon on Friday for Trump and his 18 co-defendants to turn themselves in at the Fulton County Jail to be booked or face arrest.
Read more:
Trump might welcome charges, but his co-accused might be tempted to 'flip'
What are the investigations Donald Trump is facing?
Sky's Dominic Waghorn explains Trump's latest charges


Trial could take place during presidential nominating season
The prosecutor has proposed arraignments for the defendants during the week of 5 September and has said she wants to try the defendants collectively and bring the case to trial in March, which would put it during the presidential nominating season.
Prosecutors have proposed the trial start on 4 March 2024, while Trump's lawyers have asked for it to take place in 2026.
Mr Trump's appearance in Georgia will come a day after the first Republican primary debate, which he has decided to skip.
He is expected to turn himself in at Fulton County Jail, where the Department of Justice opened a civil rights investigation into conditions last month, citing filthy cells, violence and the death last year of a man whose body was found covered in insects in the main jail's psychiatric wing. Three people have died in Fulton County custody in the past month.
The Fulton County Sheriff's Office said when Trump surrenders there will be a "hard lockdown" of the area surrounding the jail.
Trump is not expected to spend much time there.
Fulton County District Attorney Fani Willis brought counts against Trump

Trump allies hand themselves in
It comes as the first of Trump's co-defendants surrendered at the jail, with his former lawyer John Eastman and Republican poll watcher Scott Hall both surrendering to the county sheriff's office.
Among the charges against Trump is "solicitation of violation of oath by a public officer" – in other words trying to persuade someone to betray their office.
The 13 counts also include forgery and racketeering, which is most often used to target members of organised crime groups.
According to Georgia's Racketeer Influenced and Corrupt Organisations (RICO) Act it is a crime to participate in, acquire or maintain control of an "enterprise" through a "pattern of racketeering activity" or to conspire to do so.
The scheme does not need to have been successful for it to be considered criminal.