A new law will force criminals to attend their sentencings in court, with the offenders facing longer behind bars if they still refuse to sit in the dock.
The government confirmed its plans to introduce the reform on Wednesday, promising to create a new power for judges to make the order.
The change will also allow custody officers to use "reasonable force" to make offenders appear, "meaning every effort will be made for victims and their families to see justice delivered".
However, the timetable for the legislation to be brought in is not yet clear.
And the decision on whether to make the order will remain with judges, while prison staff and custody officers will be left to decide whether the use of force is reasonable and proportionate in each case.
The move comes after the case of Lucy Letby, the neo-natal nurse convicted of murdering seven babies and attempting to murder six other infants, who became the latest criminal to refuse to attend her own sentencing.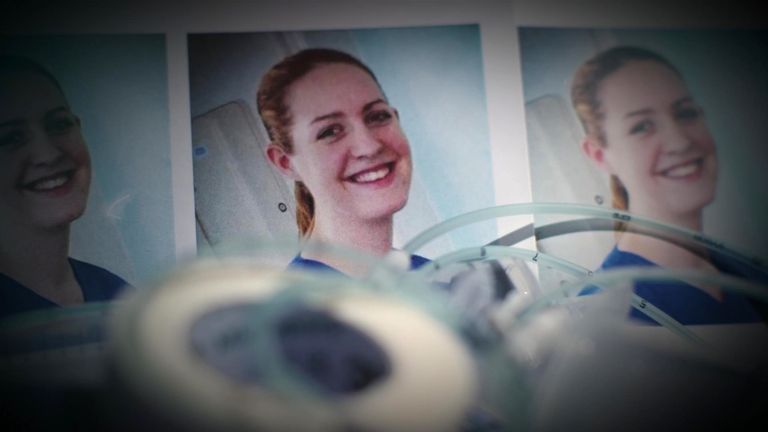 The incident saw calls for a new law grow, especially from the families bereaved by some of Britain's most high-profile recent murders – including relatives of Olivia Pratt-Korbel who was shot dead in Merseyside last year.
Announcing the reform, Prime Minister Rishi Sunak said: "It is unacceptable that some of the country's most horrendous criminals have refused to face their victims in court.
"They cannot and should not be allowed to take the coward's way out.
"That's why we are giving judges the power to order vile offenders to attend their sentencing hearings, with those who refuse facing being forced into the dock or spending longer behind bars."
Read more:
Can criminals like serial child killer Lucy Letby be forced into court?
Zara Aleena: Serial offender jailed for minimum of 38 years for 'brutal' murder
Justice Secretary Alex Chalk added: "Every time a cowardly criminal hides from justice by refusing to appear in the dock for their sentencing it is another insult to their victims and their families.
"Our reforms will give judges the power to order offenders to come to court to hear the impact of their crimes directly from victims, so that they begin their sentences with society's condemnation ringing in their ears."