With the arrival of autumn, the Labour Party is shifting into pre-election mode.
The likelihood is that the next general election will take place in May or October next year. Labour needs to hold its lead in opinion polls but, unlike its lagging rivals, it also has the space now to "prepare for government", as the jargon has it, without seeming presumptuous.
An essential task for the main opposition is making their leader look like a potential prime minister. Since the leader is, by definition, their candidate to move into Number 10, it cannot be arrogant to build up their credentials. Nor does this effort carry the same downside risks as the other essential job – developing a platform of policies for the election manifesto.
The cover boy presented in full colour
Sir Keir Starmer is being given the full hero treatment by his PR team. The guide to the Labour Party's annual conference next month in Liverpool has just been published. Sir Keir is the cover boy presented in full colour staring determinedly to the left. In case that is too fierce for your taste, there is a smiley full page colour portrait of the leader after the index and a total of 13 pictures of him in the booklet.
Only three other frontbenchers get a look-in. Deputy leader Angela Rayner and shadow chancellor Rachel Reeves each appear three times and there is one shot of David Lammy, the shadow foreign secretary.
Sometimes conference guides have no pictures or none of the leader. Parties only go glossy when they think their leader is an asset, who they must register with the public. Tony Blair was the last Labour leader to receive such star treatment.
On past form a high rating for the leader in opinion polls can be a better indication of approaching victory than big leads in the party ratings. Sir Keir still has personal ground to make up.
The biggest prime ministerial image boosts come when they are seen mixing on equal terms with other world leaders – especially election winners who are still in power. Top bookings are with the presidents of France and the US because they are both heads of government and heads of state of powerful allies.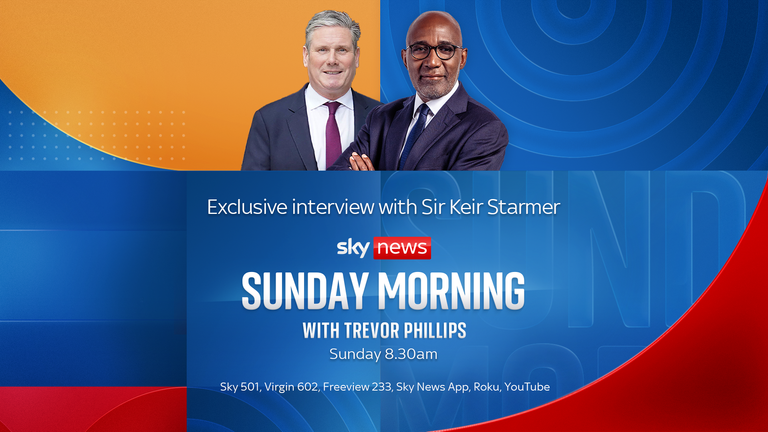 Whatever the ideological links between their parties, serving presidents and prime ministers think very carefully before posing for pictures with foreign opposition leaders. Their job is to do business with their opposite numbers, whether they like them or not, rather than those seeking to replace them.
Labour prime minister Tony Blair caused a stir before a German election when he dropped in to meet the Christian Democrat candidate Angela Merkel on his way to his final summit with the retiring Social Democrat chancellor Gerhart Schröder.
Sir Keir has already met the present German Chancellor Olaf Scholz, who is a fellow Social Democrat. His visit to the Elysée Palace this Monday is more significant. Emmanuel Macron formed his own movement and is not aligned to the left.
It will be the crowning moment of a long weekend of diplomacy and international travel for the Labour leader – which also took him to The Hague in The Netherlands for talks on migration and to a centre-left summit in Montreal hosted by the Canadian Prime Minister Justin Trudeau.
Click to subscribe to the Sky News Daily wherever you get your podcasts
Sir Keir will be flanked by Reeves, Lammy and Sue Gray, his controversial new chief of staff for his meeting with the President of France. Macron, who has been in power since 2017, never extended such hospitality to Jeremy Corbyn, the last Labour leader.
Relations between European Union leaders and British prime ministers have been stiff since Brexit, mostly reduced to encounters around formal summits which both had to attend.
Theresa May and Boris Johnson seemed to feel that being chummy with Europeans would play badly back home. Liz Truss tickled Tory activists during her successful bid for the party leadership by saying the jury was out on whether Macron was "friend or foe".
Relations between EU leaders and PMs have been stiff
Rishi Sunak has tried harder. There has even been talk of a bromance with Macron. The two men have much in common, in terms of age, background in global banking, dress sense and height. The invitation to Sir Keir and its timing confirm that Paris views him as a contender and possible winner in the approaching UK election.
Nobody will spell it out loud for fear of provoking anti-Europeans but both sides hope that a Starmer-led government would pursue more positive and constructive relationships with Europe.
Sir Keir's attempts to tread softly are unlikely to succeed. The Daily Telegraph's reaction to his talks on immigration and planned French visit was the blaring front page headline: "Starmer plots deal to take EU migrants".
Sir Keir will counter the anti-Europeans by pointing out that he has already said no to re-joining the single market and customs union. Many of his supporters are biting their tongues over this hard line because they do not want divisions for electoral reasons. They fervently hope it will change over time, and perhaps two terms in office.
The key difference between Starmer and Sunak's attempts to stop the small boats crossing the channel is that Sir Keir plans to work with multi-member European institutions such as Europol and the EU.
Labour plan to 'smash the gangs'

Sunak was rebuffed by Macron when he attempted to stitch up a bilateral Franco-British deal. The prime minister may have negotiated a one-off UK return to the European Horizon science programme but he turned down an invitation to establish regular annual summits between the EU and the UK, along the line of the EU's meetings with the US, Japan and other partners.
The UK's pro-Europeans and Bregreters will be comforted on Monday if there is friendly engagement with France, in its role as a leading member of the EU.
Starmer-Macron meeting compared to anointing of Tony Blair
The UK's relations with France have always gone far beyond the EU. France is the closest neighbour of these islands, with thousands of years of interaction between inhabitants.
These have often been caricatured by the two nations' leaders: President DeGaulle's "non" after a wartime in London as leader of the free French; the wary mutual admiration across a left-right divide between Margaret Thatcher and François Mitterand.
Read more:
Starmer rejects 'nonsense' claims that Labour's plans would increase asylum seeker numbers
Tory conference set to be disrupted for second year running
Labour promises to end use of hotels for asylum seekers
Tony Blair and Jacques Chirac had the closest friendship in modern times. Blair made Chirac a godfather to his son Leo. This soured because of Chirac's opposition to the invasion of Iraq. At a news conference following a visit to Number 10, Chirac asked what Blair would say to the child about going to war.
As they chortle over Euro-bashing headlines from 9/11 onward, British opinion formers seem oblivious that real offence has been taken on the other side of the channel. Rebuilding trusting and friendly relations, either bilaterally or multilaterally, will take a long time.
What is Labour's plan on migration?

Some are comparing the Starmer-Macron meeting to the effective anointing of Tony Blair as a future prime minister, when he was still leader of the opposition, by the granting of a meeting with President Bill Clinton in 1996. The Democratic president Barack Obama did much the same when he agreed to meet the Conservative leader David Cameron in 2009.
A White House visit may not be at the top of his wish list
Sir Keir has so far failed to get a formal meeting with Joe Biden, although the president has visited this country. The Americans are cautious about giving the nod.
Ahead of what looks like a challenging race for re-election, Starmer may not be putting a trip to the Biden White House at the top of his wish list. He will not want to be seen with the likely Republican challenger Donald Trump.
Even when wannabe leaders get their foot in a president's door, the encounter is not always something to celebrate.
Ronald Reagan was known for his admiration for prime minister Margaret Thatcher and for his Cold War attitude to the Soviet Union. After the Labour leader Neil Kinnock managed a brief audience in the Oval Office both sides ended up briefing against each other. Labour's veteran foreign affairs' spokesperson Denis Healey claimed the president didn't know who he was. This complaint can backfire.
Sir Keir will not expect to be slighted by President Macron when his team climb the Elysée steps this week. Nor can he afford setbacks in his quest to be seen as the next prime minister of the United Kingdom.