A Labour MP and member of Sir Keir Starmer's shadow cabinet says she feels "shocked", "angry" and "frightened" after her constituency office was vandalised.
Shadow Welsh secretary and Cardiff Central MP Jo Stevens' office was sprayed with the word "murderer" and covered with posters saying she had "blood" on her hands, following a pro-Palestine demonstration on Thursday evening.
It came a day after a vote in parliament in which 56 Labour MPs defied the party whip to support an amendment by the SNP that called for an immediate ceasefire in Gaza.
Can the chancellor lift the gloom? Watch live coverage on Sky News of the autumn statement from 11am on Wednesday
More than 11,000 Palestinians, including more than 4,000 children, have been killed in Israeli strikes in the territory since 7 October, according to Gaza's Hamas-run health ministry. More than 1,200 Israelis were killed in Hamas' attacks on 7 October, Israel says.
Ms Stevens abstained on the SNP amendment along with the majority of her colleagues.
She told Sky News the SNP amendment was a "political tactic" designed to stoke "division".
"What has happened to me is the responsibility of the people who did those criminal acts," she said.
"But it [the SNP amendment] was a political tactic that was done to create division, and it has succeeded in doing that.
Politics news – live: Rishi Sunak asked if he'll call an election if Rwanda plans blocked by peers
"And I'm absolutely sure that is of no help whatsoever to the people in Gaza and Israel."
Asked for a response to Ms Stevens' criticism, an SNP spokesperson reiterated the party's support for an immediate ceasefire in Gaza and Israel and said it would "continue to press the UK government to join the UN and international community in calling for one".
"Our amendment was backed by MPs from across political parties, trade unions and human rights groups – and a ceasefire has the support of the majority of the public," they said.
"Thousands of innocent children and civilians have already been killed in Israel and Gaza – in clear breach of international law.
"It is essential that the UK joins the growing international momentum for a ceasefire in order to save lives and uphold international law."
Calls for a ceasefire in Gaza have divided Sir Keir's party and led to the major rebellion on Wednesday.
The Labour leader has said that while he wants to "alleviate the suffering" of civilians in Gaza by providing further humanitarian aid, he does not support a ceasefire on the grounds it would "embolden" Hamas and allow the group to carry out further terror attacks.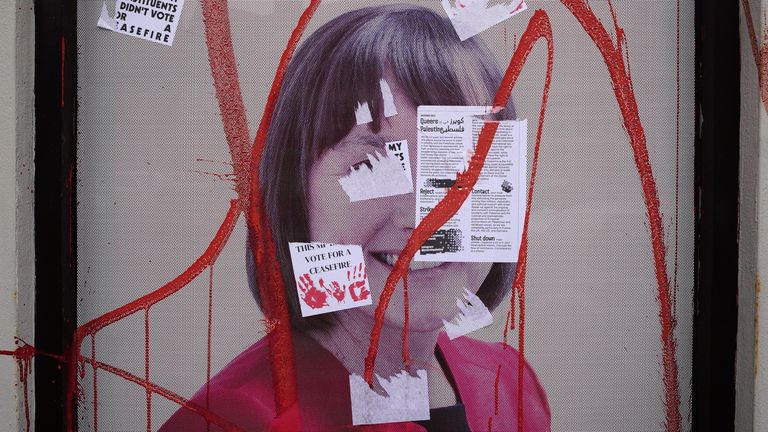 Eight members of the shadow frontbench – including prominent MP Jess Phillips – either resigned or were sacked from their posts after voting in favour of the SNP ceasefire amendment.
In her resignation letter, Ms Phillips said she was resigning with a "heavy heart", but that she could see "no route where the current military action does anything but put at risk the hope of peace and security for anyone in the region now and in the future".
Read more:
Why does Sir Keir Starmer not support a ceasefire in Gaza?
Sue Gray's baptism of fire trying to fix Keir Starmer's ceasefire crisis
Ms Stevens said some of the messages left on her office accused her of "supporting genocide" and "being responsible for the deaths of babies".
She said she had often been forced to close her constituency office early on the days protests were taking place for the safety of her staff.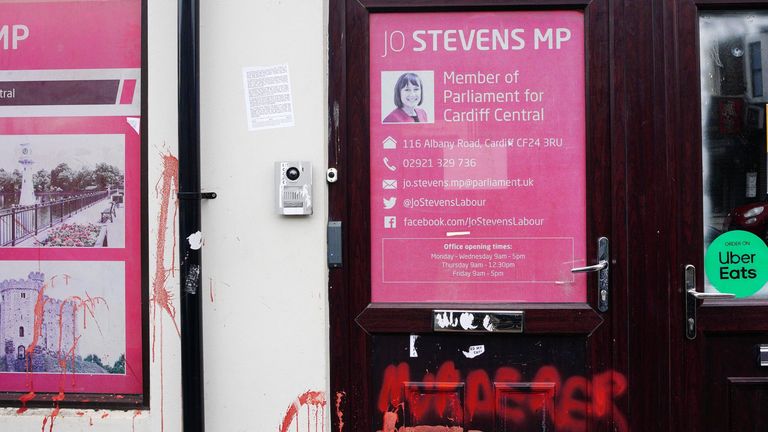 She added: "I just feel angry, but I also feel frightened about it because since I've been elected, I've had my office attacked and vandalised from people from the far right when I was helping Syrian refugees in 2016, and now I've got the same thing from people on the far left.
"I want people to understand that what I want to see happen as quickly as possible, I think is what they want to see happen as quickly as possible."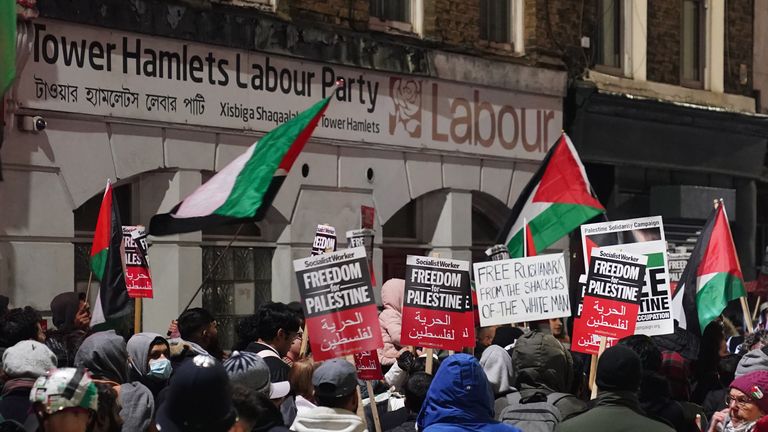 Other MPs to have also faced protests over their stance on Gaza, including Rushanara Ali, the Labour MP for Bethnal Green and Bow who also abstained on the SNP amendment.
Sky News has also been told of cases where MPs have received death threats or had their home addresses posted online.