Former US first lady Rosalynn Carter has died at the age of 96.
She died peacefully with her family by her side at her home in Plains, Georgia, according to the Carter Center, a not-for-profit organisation founded by her husband and former president Jimmy Carter, 99.
They were married for 77 years.
Mrs Carter had been suffering from dementia.
"Rosalynn was my equal partner in everything I ever accomplished," Mr Carter said.
"She gave me wise guidance and encouragement when I needed it. As long as Rosalynn was in the world, I always knew somebody loved and supported me."
Unlike many previous first ladies, Rosalynn Carter sat in on cabinet meetings and represented her husband on foreign trips.
In 1977, only months into his presidency, Mr Carter sent her to Latin America to tell dictators he was serious about denying military aid and other support to people who violated human rights.
Read more US news:
Sam Altman tipped to return as OpenAI boss just days after sacking
US mother who died from cancer helps wipe out millions in medical debts
She was known by aides, privately, as "co-president" during Mr Carter's single term of office from 1977-1981.
At one stage, she was forced to declare: "I am not running the government."
She chose mental health and care for the elderly as her main policy concerns. When the media did not cover her efforts as much as she would have liked, she criticised reporters for writing only about "sexy subjects".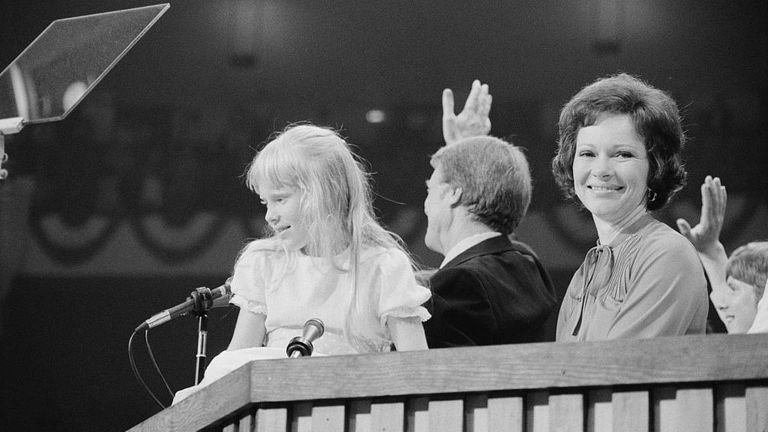 As honorary chairwoman of the President's Commission on Mental Health, she testified before a senate sub-committee, becoming the first first lady since Eleanor Roosevelt to address a congressional panel.
In 1984, she wrote in her autobiography, First Lady From Plains, that leaving Washington and returning to Georgia, after Ronald Reagan won the 1980 election, had not been easy.
"I was hesitant, not at all sure that I could be happy here after the dazzle of the White House and the years of stimulating political battles," she said.
She added, however: "We slowly rediscovered the satisfaction of a life we had left long before."
Mrs Carter is survived by her children Jack, Chip, Jeff, and Amy, 11 grandchildren and 14 great-grandchildren.
One grandson died in 2015, the Carter Center said.
Chip Carter said his mother was a "great humanitarian" who will be "sorely missed not only by our family but by the many people who have better mental health care and access to resources for caregiving today".