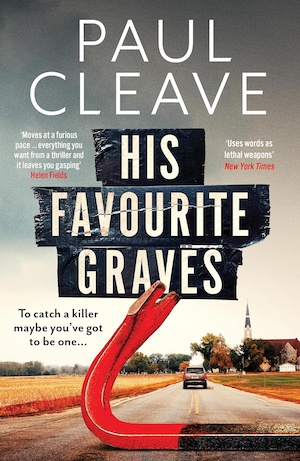 New Zealand author Paul Cleave has won multiple awards and been on bestseller lists, but isn't yet a household name as a crime fiction author in Britain or North America. That could change – each new novel offers something different and he is a master of twisty tales that put characters through the wringer. And, let's face it, that's what we like. 
In His Favourite Graves, the action takes place in the small American town of Acacia Pines. It's a fictional place, which could be a backwater town in any rural state. It could be anywhere nearby if you're not a city dweller.
The sheriff, James Cohen, is dealing with the abduction of a pupil from the local school, and he has more than his fair share of troubles even without his work. His father has Alzheimer's and burned down the nursing home so he's living with Cohen. A man died in that fire and the family are suing. James and wife Cassandra are still in love but she reached her breaking point and moved out a few months back. Capping it off, their son Nathan is the school bully. No wonder Cohen drinks.
The new case adds to the burden but Cohen doesn't see it like that. In a roundabout way he's an optimist and views it as an opportunity for redemption, a way to put the world straight and maybe to make some money and get life back on track.
Lucas is the son of Peter Connor, a crime writer who is a local celebrity. At school he's one of Nathan's principal targets. As the novel opens he's inside a school locker after being jumped. He's stuck there and everyone has gone home. Lucas thinks the ordeal is over when the janitor, Simon Grove, comes along and frees him, but it's out of the frying pan, into the fire.
Grove harbours some very nasty desires and takes 16-year-old Lucas prisoner. He moves the boy to an old abandoned saw mill and rigs up his camera. We don't need to say any more about where this is going.
When Cohen is called in by the distraught father, he finds clues at the school and the hunt is on. Grove forgot to clean up in his rush to take the boy and is a man with his own demons. They include the physical and psychological scars of his abusive childhood. 
Before long we are left questioning what we think we know as the narrative takes surprising and original turns. Connections are made to earlier events like the cyber bullying that may have contributed to Taylor Reed throwing himself off the school roof and the disappearance of Freddy Holt, another local teenager, a few months earlier. Everyone has something in their background that could change the direction the story follows, so don't take anything at face value. Peter Connor has put up reward money that Cohen might be able to claim.
Normally, a story like this might end around page 50. At this point it seems as though the entire traumatic tale has unfolded. Instantly, we are wondering where things go from here.
For Paul Cleave it's just beginning and now things begin to take on a new form. There's a story under the story that burns like a slow fuse, with the suspense and tension heating up all the time. The plot discussed so far is the tip of the iceberg and that's the beauty of Cleave's fiction. He follows the paths his characters lead him down and as they are all hiding so much this kind of intricate plotting requires exceptional characters. This in turn calls for an extraordinary, off-the-wall story that is at the same time credible and engaging.
If anything were to put a reader off it would be the complexity this involves, which might make His Favourite Graves feel a little contrived. However, Cleave leads us down some dark and twisty turns that push the envelope for a read that is both fun and memorable. These are damaged characters but they raise the hackles and our sense of empathy too.
His Favourite Graves is a well-crafted thriller that defies classification. Police procedural, psychological drama, domestic noir… and it has a sense of foreboding and intrigue all the way through. For novels like this, The Pain Tourist and The Quiet People, we think Paul Cleave deserves a wider audience.
Orenda
Print/Kindle
£6.49
CFL Rating: 4 Stars