At 26 years of age, Australian author Gabriel Bergmoser is already something of a phenomenon in his own country. He's won the Peter Ustinov and Kenneth Branagh awards for his scriptwriting, and has three young adult thrillers to his name. Now the Melbourne-based writer has fixed his focus on the crime fiction genre with The Hunted, a tense and bloody pursuit through wasteland in a place that could easily be called The Middle of Nowhere, Australia.
In the book, a young woman called Allie arrives to stay with her grandfather, Frank, at a forgotten service station. Also on the highway are the free-spirited wanderer, Simon, and a woman called Maggie who will tie all their fates together. Plus, out there somewhere are those hunters referred to in the title.
From his lockdown base in Melbourne, Gabriel responded to our questions about his crime debut.
What do you think crime fiction lovers are going to love about The Hunted?
I'm hoping that the pace, the action, the intrigue and the twists will pull people in but that the characters are what they remember.
Tell us a little bit about the characters and how you created them?
It was a combination of happy accidents and thematic preoccupation. Maggie was someone who hugely surprised me; she was intended as a kind of functional inciting incident but she very quickly took control of the book and went off in her own direction, leaving me hanging on for dear life. Other characters were positioned to provide different perspectives on the central theme of Australian masculinity and the dark, dangerous side of it.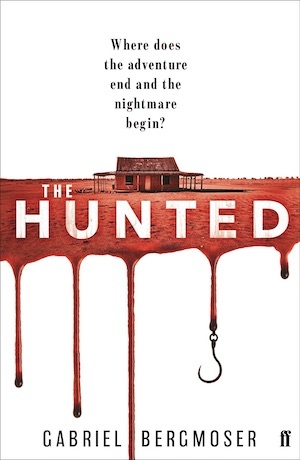 From frozen fjords to the Outback, isolated settings are huge in crime fiction at the moment. What kind of atmosphere were you trying to create when you wrote The Hunted?
One that I think is unique to Australia; one of stark beauty, creepy menace and the irresistible intrigue of wanting to know what hides in the bush, all the while being very aware that you probably shouldn't go looking.
It's been likened to Deliverance and Battle Royale. What inspired the tone and atmosphere for this novel?
I wanted to write the kind of book I would love to read, something relentless and terrifying that leaves you short of breath and wondering what the hell just happened. I drew a lot of inspiration from films like Green Room and, in terms of the landscape and setting, Jane Harper's novels. Also a bit of Tarantino's knowing pulpiness.
After writing for screen and stage, why did you decide to write a crime novel?
The Hunted is actually my fourth novel. I wrote a trilogy of YA adventure books that were published over here in Australia, although this is definitely a change of pace. While I love writing theatre and film, I think novels will always come first for me. It's the medium I feel most at home in and I kind of like the fact that the buck stops with you. If people don't like it, you can't blame actors or directors, so you have to make sure it's as good as possible!
Which authors have inspired you and why?
My two writing idols are probably Tana French and Thomas Harris, both of whom have this incredible ability to merge the darkest subject matter with undercurrents of tender, bruised humanity. While I've stolen a lot from every author I've ever loved, those two most encapsulate what I would one day love to achieve.
With the success of writers like Jane Harper and Chris Hammer in the US and UK, Australian crime fiction seems to have become a phenomenon. How is this trend perceived in Australia itself, if at all?
I think there's a real enthusiasm for seeing our landscape depicted so evocatively and in a way that is mature and compelling, a million miles from your Crocodile Dundees or whatever. That these books are being written by authors as talented as Jane Harper certainly doesn't hurt!
What led to The Hunted being optioned for the screen, were you surprised and what role will you have in the production?
The film was actually acquired before the book. Having done the rounds in LA a couple of times I was stunned by how quickly it was snapped up. I'm writing the screenplay, which has been a fascinating experience as in some ways it's veered into very different territory to the book, but in ways that I find really exciting.
What's it like in Melbourne at the moment? Is the pandemic as scary as The Hunted?
For me it's okay as I work from home anyway, but a lot of people I know are really struggling. I think the general feeling at this stage is more frustration than fear. We don't have that many cases in the grand scheme of things, but we're keenly aware of how quickly that could change.
What's next for you?
It's a bit of a change of pace for me next; my immediate next book, The True Colour of a Little White Lie, is a YA coming of age story that could not be more vastly removed from The Hunted. But after that comes Maggie's next adventure and then hopefully many more! In terms of what's next for crime, I have no idea, but I can't wait to find out.
The Hunted is out now for Kindle and will be released in print on 6 August. Watch for our review.