Immigration minister Robert Jenrick is visiting Mediterranean countries this week as part of a government focus on tackling illegal migration. 
He will be visiting Algeria, Tunisia and Italy, before heading to France.
The Times reports the Italian government is expecting 400,000 people to enter the country from North Africa this year – in forecasts prepared for right-wing leader Giorgia Meloni's first full year in office as prime minister.
Mr Jenrick, who works under Home Secretary Suella Braverman, will meet ministers and officials.
According to the Home Office, he will "receive threat briefings to inform the UK's approach to preventing illegal migration".
The trip comes as the government launches an advertising campaign in Albania to warn people they face being detained and deported if they attempt to come to the UK.
With the weather improving, the number attempting the crossing is expected to increase.
The Conservatives – and Prime Minister Rishi Sunak – have made tackling illegal migration a priority after record numbers crossed the Channel in small boats in 2022.
At least 45,728 made the journey last year – and 7,297 so far in 2023, according to official figures.
Explained:
What is Rishi Sunak's five-point illegal immigration plan?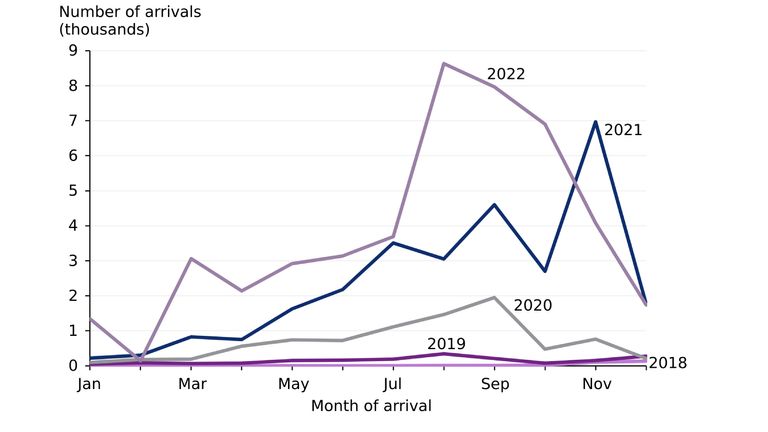 Mr Jenrick said: "Organised immigration crime is a global challenge which requires international solutions the whole way along the migration route.
"That includes working proactively at source before people set off on dangerous and unnecessary journeys.
"We are determined to stop the boats and the campaign, launching in Albania this week, is just one component of the Home Office's work upstream to help dispel myths about illegal travel to the UK, explain the realities, and combat the lies pedalled by evil people-smugglers who profit from this vile trade."
Click to subscribe to the Sky News Daily wherever you get your podcasts
This week's action also follows plans to clamp down on legal immigration by stopping family of international students from being able to live in the UK.
Figures last week showed net legal migration in the previous year was 606,000 – a record high.
However, it included a substantial portion of that figure arrived from Hong Kong and Ukraine as part of special humanitarian visa schemes.