Police in Alabama have launched an investigation into a riverfront mass brawl – which has sparked viral videos on social media.
Initial footage shows a group of white people attacking a black riverboat worker, before the fight erupts into a mass brawl.
Several people then join the fight, with later footage showing around a dozen people fighting – with at least one person ending up in the water.
A number of people are seen in handcuffs by the end of the melee.
Police say four arrest warrants have been issued in connection with the incident, which took place at a popular riverfront area in Alabama's capital, Montgomery.
More could be issued after authorities review further footage, according to Major Saba Coleman of the Montgomery Police Department.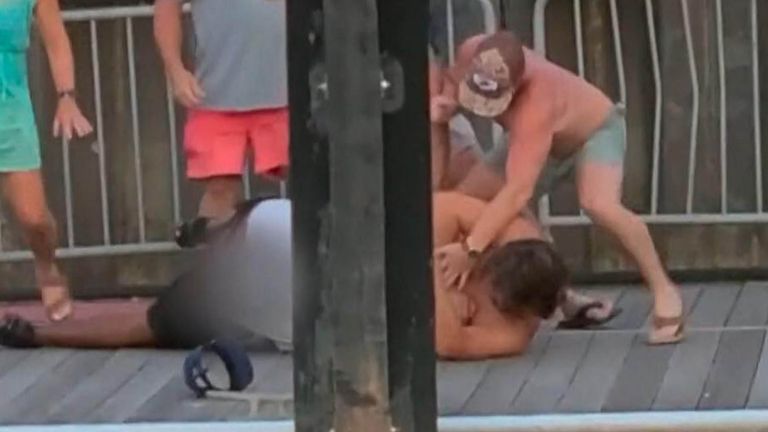 Police are set to hold a briefing on Tuesday to provide an update on the situation.
Montgomery Mayor Steven Reed called for community cohesion in the aftermath of the brawl between the two groups, which were largely split among racial lines.
"While there is a lot of activity and interest in this, we know that we'll come through this together as a community collectively as we have other situations," Mr Reed told US media on Monday.
He praised police in an earlier statement for their work to "swiftly detain several reckless individuals for attacking a man who was doing his job".
"This was an unfortunate incident which never should have occurred," he added.
Witnesses said the incident began when a worker tried to clear the dock along the Alabama River so that a riverboat could dock.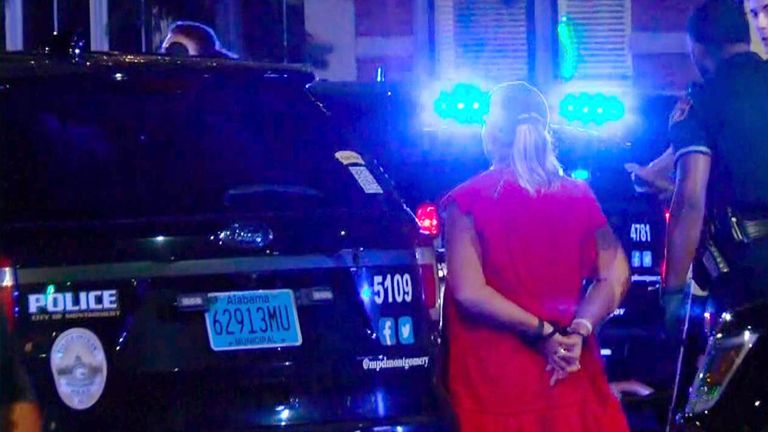 A group of boaters refused to move their pontoon and attacked the dockworker after he untied the boat to make way for the riverboat.
One witness, Leslie Mawhorter, 52, who was on the riverboat, said in an interview: "They just didn't think the rules applied to them. It was so avoidable. This never had to have happened.
"Everything just spiralled from there. I knew something was going to go down, because their attitude was just, 'You can't tell us what to do'.
"They were going to be confrontational regardless of who you were."
After the initial attack, several people appeared to rush to the worker's defence, one of them even swimming from the riverboat over to the dock to take part in the brawl.
Read more from Sky News:
Mass brawl breaks out at Chicago airport
Black Hawk helicopter crashes in Alabama
Christa Owen, 47, who was on the riverboat with her husband and their daughter when the fight began said passengers felt "helpless".
"What was hard is we were all on the boat and witnessing our poor crewman being attacked by these guys, and we couldn't do anything about it," she said.
"It was really difficult to watch, and, like I said, we felt helpless, because we were forced to be spectators."