Summary
The Crown season six part one receives the lowest Rotten Tomatoes score in the show's history, with critics finding it too focused on Diana's story and neglecting the rest of the Royal Family.
Some critics consider the first part of the final season to be melodramatic and even cheesy, particularly in its portrayal of the ghost of Princess Diana.
Despite the mixed reception, Elizabeth Debicki's performance as Princess Diana has been praised, earning her a nomination for Outstanding Supporting Actress in a Drama Series at the upcoming Primetime Emmy Awards.
Warning: This article contains SPOILERS for The CrownThe Crown has taken a huge dip with critics following its sixth season debut, as part one of the concluding season of the Royal Family drama ushers in the lowest Rotten Tomatoes score in the show's history. The season currently holds a 56% critical rating on the site (faring much better with audiences at 93%). For reference, seasons one through five hold scores in the 71% to 96% range (with season four bringing in the highest praise from critics).
Since its debut on Netflix in 2016, The Crown has been considered one of the streamer's best shows and has amassed 129 awards, including 10 Primetime Emmy Awards (and ten creative Emmy Awards), six Screen Actors Guild Awards, five Critics Choice Awards, and seven Golden Globe Awards. The historical drama was created by British screenwriter and playwright Peter Morgan, who developed it from his 2006 drama film The Queen, for which Helen Mirren earned the Academy Award for Best Actress, and his stage play The Audience. The Crown chronicles Queen Elizabeth II's reign, beginning shortly before her marriage to Philip Mountbatten in 1947. The sixth season, which kicked off with four episodes on November 16 and will air its remaining episodes in December, covers Princess Diana's death and Prince Charles' nuptials to Camilla Parker Bowles.
The Crown has been following the devastating story of Princess Diana, played this season by Elizabeth Debicki, who was introduced to audiences (as a young girl) during the fourth season. The sixth season's midseason finale concluded with her untimely death. Among critics' issues with the first part of The Crown's sixth season is that it is hyperfocused on Diana's story and her relationship with Dodi al Fayed, not leaving much room to examine the rest of the Royal Family, particularly Queen Elizabeth II, who feels like a secondary character. IndieWire's Ben Travers writes:
"'The Crown'" is so preoccupied with one of the Royal family's most infamous tragedies, it does little to develop anyone else. Charles, Dodi, and Mohamed [al-Fayed, Dodi's father] dominate screen-time, along with their male advisors, drivers, and assistants — all rotating around their blonde sun goddess — while Elizabeth's Part 1 arc is reduced to jealousy over Diana's beloved international status."
Related: The Crown's Elizabeth Debicki Reveals That Fake Paparazzi Felt 'Incredibly Invasive'
The Crown Creator Peter Morgan Discusses Diana's Ghost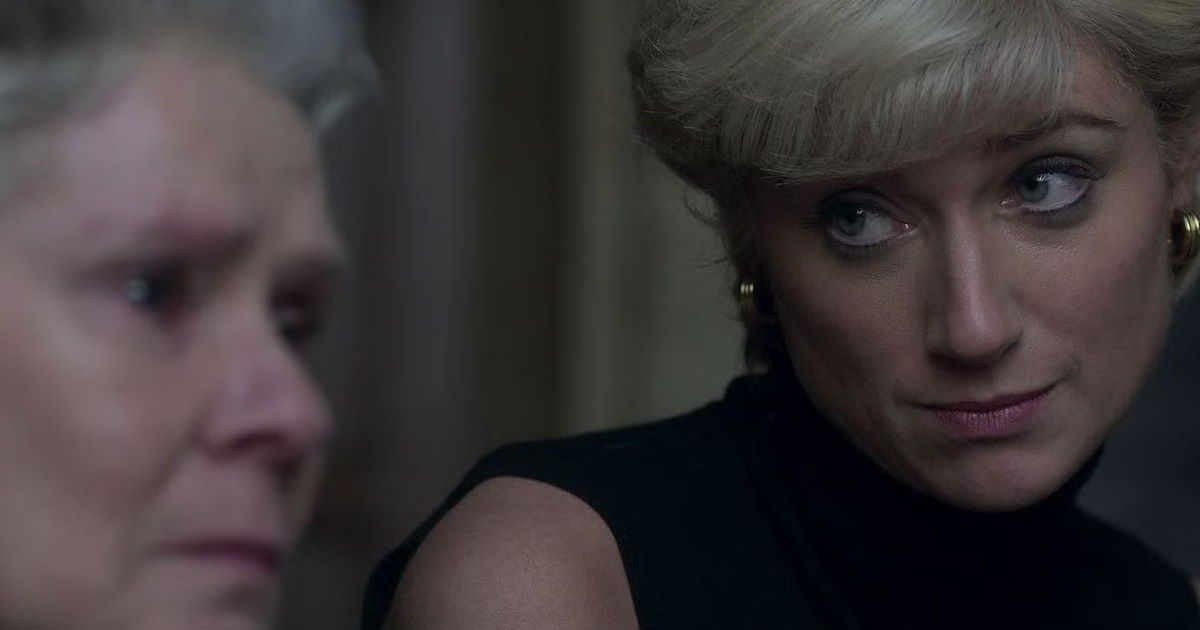 Many critics call the sixth season's first part melodramatic (and even cheesy), especially when it comes to showing the ghost of Princess Diana visiting ex-husband Charles and Queen Elizabeth II. That part, as Morgan explains, may require a bit of clarification. He recently told Variety:
"I never imagined it as Diana's 'ghost' in the traditional sense — it was her continuing to live vividly in the minds of those she has left behind," he said. "Diana was such a mythic character, with such a strong hold over all of our imaginations. That was evident in the aftermath of her death, and in the mass outpouring of grief. Diana was unique, and I suppose that's what inspired me to find a unique way of representing her. She deserved special treatment narratively."
Despite the negative feelings about the show's path during its last season, Debicki's portrayal of the late Princess Diana has garnered praise. The actress is a nominee for Outstanding Supporting Actress in a Drama Series for the upcoming 75th Primetime Emmy Awards.
Along with Debicki, season six of The Crown stars Imelda Staunton as Queen Elizabeth II, Dominic West as Charles, Prince of Wales, Olivia Williams as Camilla, Khalid Abdalla as Dodi Fayed, Salim Daw as Mohamed al-Fayed, Bertie Carvel as Tony Blair, and Jonathan Pryce as Prince Philip, Duke of Edinburgh. The first four episodes of its concluding season are streaming on Netflix. The final six episodes will hit the streamer on December 14.